A VIBRANT AND DEPENDABLE
STEEL PROCESSING BUSINESS
We operate one of the largest structural steel processing, storage and distribution facilities in the UK. Our steel is used across multi-million pound civil engineering projects, manufacturing and construction. Making us a vital link in the UK supply chain.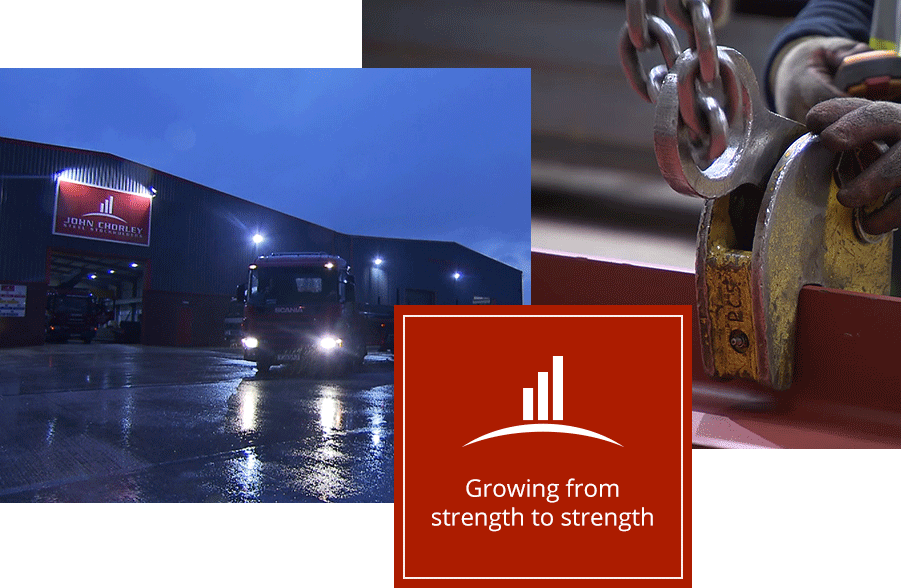 ---
What makes us different
Investment
As a company, we invest only to improve our offering and add value to the business. The millions we have already committed, make it easier for our customers to order from us. Projects that once would have taken all day to cost and organise can now be done in single phone call or email.
People
Investing in people is a fundamental part of our business. We work hard to maintain a safe working environment in which everyone is valued. Many of our people have been with us for years and as the business has grown our training programme has allowed them to grow too.
Technology
Our systems software and steel processing technology is world-class. We're a twenty-four hour operation and the technology we employ allows us to supply, process and deliver steel with massively reduced lead times.
Future
It's fair to say that our business has changed more in the last ten years than in the previous century. We will always work hard to improve our offering, deliver what our customers need, adapt and embrace change.
How it all began
---
John Chorley Iron and Steel Merchants was founded in 1860 and was held in high regard by everyone who had dealings with it.
---
The company had many strengths - the mighty frame of John Chorley being one of them.
They kept a large and varied stock on the premises at all times and had the expertise to cut steel of all sizes and deliver it post-haste.
Many of Britain's roadways, railways and waterways were bridged and built with their steel.
The old firm certainly knew their business – as we do today.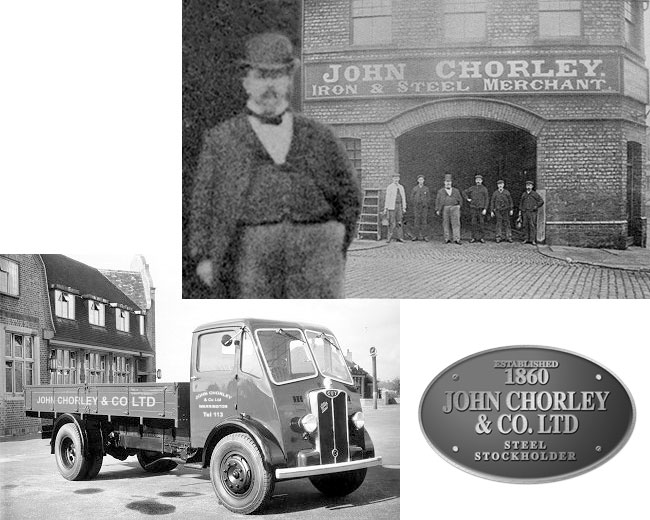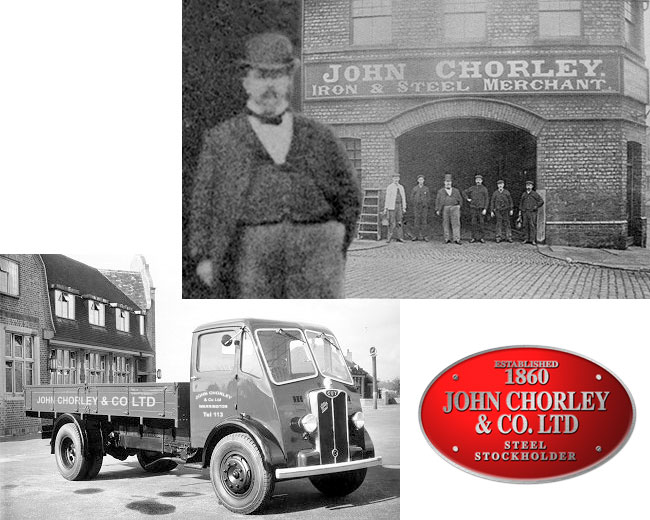 Our experience and resources make us a reliable and trusted partner, whatever the size and complexity of your project. Here are five good reasons why you should choose us.
---
1
Our Sales Team - your first point of contact
All industry experts, they are used to answering questions, solving problems and helping clients prepare quotes. We're a people business and they are the eyes and ears of the company, liaising between production, procurement and delivery. No two days are ever the same and that's just how they like it. They are well versed in the cut-and-thrust of the steel industry. They remain calm under pressure and nothing ever throws them – isn't experience a wonderful thing.
2
Our Buyers - vital to the success of our business
Responsible for many millions of pounds worth of steel stock, across hundreds of different product lines, our procurement team certainly have their work cut out. Their little black book is bulging with the kind of quality contacts and connections that would make our competitors green with envy. In a fast-paced and ever changing global market they use their clout to buy top quality grade steel from British and European Steel Mills. And if all that wasn't enough they handle all the paperwork to ensure we meet all technical and legal compliance.
3
Our Production Team - working around-the-clock
It's a demanding job but our operators are highly accomplished and used to handling the largest steel sections and thickest plate with great skill. They work in a fully-automated facility, packed with the latest steel processing technology and each day they can cut, drill, shear, punch, shot blast and paint their way through many hundreds of tonnes of steel. Turning-out drilled and painted beams and columns, end plates, fittings and even precision-cut plasma profiles.
4
Our Drivers - some of the most important people in our company
Long before most peoples' working day begins, our despatch yard is a hive of activity. All the wagons and trailers have been loaded overnight and the transport office has seen to it that the paperwork is as it should be. One last check to make sure that the load is secure and our drivers are ready for the off. With regular deliveries throughout the North of England they get to know our customers better than most. Their travels can take them as far south as the Midlands or up into Scotland.
5
Our Directors - taking care of the detail
We are an independent company and as such we're not tied to buying steel from one particular mill or answering to foreign investors. Our board and senior management team have the freedom to make decisions, based on what's right for our business, the people we employ and our customers. We're fiercely independent – and proud it.

---
JOHN CHORLEY HAS BEEN REMODELLED AND NOW HAS THE RIGHT MIX OF PRODUCT AND VALUE ADDED PROCESSES
MEN Business Bulletin
OUR DIFFERENCE
Quite simply, our mission is to harness the knowledge and expertise of all our people – and that we continue developing, investing and above all delivering.
Terry Shanahan
Managing Director