---
Extremely accurate CNC punch, drill and shear
---
Our Ficep Tipo is perfectly suited for high or low-volume processing of both angles and flats.
---
Structural steel often requires a large number of plates for use as base plates and other connections.
Our Tipo has four 1100kN punching stations, capable of punching holes of up to 46mm in diameter, together with a drill if a drilled hole is preferred.
A CNC controlled 2200kN flat stock shear can cut 510mm wide by 25mm thick plates. The programmable cutting unit can also complete corner clipping and mitre cuts.
Hydraulic clamps keep the material tightly in the working position and ensure an extremely accurate and consistent result.
We can also perform plasma profiling and plate drilling.
---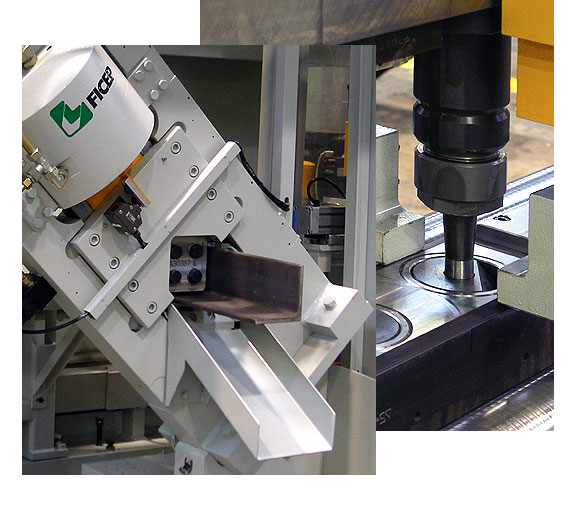 Capacity table
---
The following capacity table should act as a general guide. Where dimensions are stated, such dimensions are for guidance only and are provided by the machine manufacturer. Please contact a member of our sales team if you require more precise tolerances.
|   | Ficep Tipo |
| --- | --- |
| Maximum Angles | 150mm x 150mm x 16mm |
| Maximum Flats | 510mm x 25mm |
| Punching Capacity | 35mm x 25mm |
| Maximum Punching | Ø46mm |
| Punching Tools | 4 |
| Punching Nominal Power | 1100kN |
| Shearing Nominal Power | 2200kN |
| CNC Axes | 2 |
Want to know more about John Chorley?
Call us on 01925 636552
---
About us
We provide products and services right across British industry. From landmark construction and multi-million pound infrastructure projects through to commercial developments and manufacturing – everyone gets our best.

---
JOHN CHORLEY HAS BEEN REMODELLED AND NOW HAS THE RIGHT MIX OF PRODUCT AND VALUE ADDED PROCESSES
MEN Business Bulletin
OUR DIFFERENCE
Quite simply, our mission is to harness the knowledge and expertise of all our people – and that we continue developing, investing and above all delivering.
Terry Shanahan
Managing Director