---
High-speed, CNC plate drilling and milling
---
Our Ficep Gemini can perform multiple operations on one CNC system and is the most efficient plate fabrication centre available today.
---
Its high-speed spindle is extremely productive at drilling holes from 3mm to 80mm and countersinking them as required. It can mill larger holes up to 400mm and tap high quality threads of up to 22mm in diameter.
Machine parts and structural details often require slotted holes and milled surfaces. The cutting and machining accuracy of Gemini means that many of these operations can be performed on stock plate.
For fabrication, the milling of weld prep surfaces can drastically reduce welding costs. Gemini can produce weld preps by milling or bevel edge plasma. For precision bevels and J preps, milling is more accurate.
Gemini can also profile K preps, and perform plasma cutting and bevel edge profiling.
---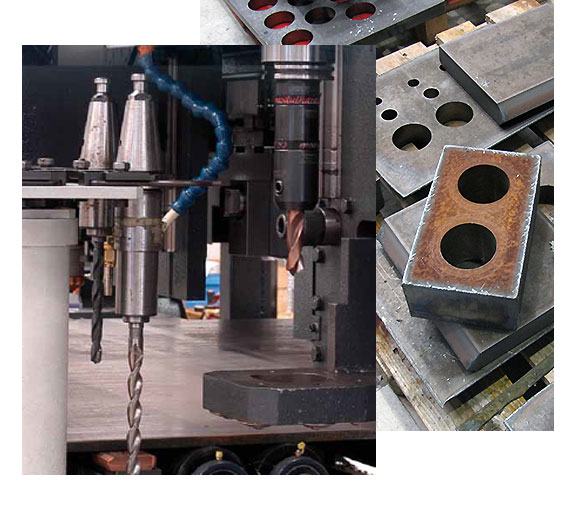 Capacity table
---
The following capacity table should act as a general guide. Where dimensions are stated, such dimensions are for guidance only and are provided by the machine manufacturer. Please contact a member of our sales team if you require more precise tolerances.
|   | Plate Cutting | Plate Drilling | Helical Milling | Helical Tapping | Countersinking | Counterboring |
| --- | --- | --- | --- | --- | --- | --- |
| Minimum | 5mm | 6mm | - | - | Ø6mm | - |
| Maximum | 80mm | 32mm | 240mm | Ø240mm | Ø32mm | Ø240mm |
| Tolerances | ±0.1mm | ±0.1mm | ±0.1mm | ±0.1mm | ±0.1mm | ±0.1mm |
Want to know more about John Chorley?
Call us on 01925 636552
---
About us
We provide products and services right across British industry. From landmark construction and multi-million pound infrastructure projects through to commercial developments and manufacturing – everyone gets our best.

---
JOHN CHORLEY HAS BEEN REMODELLED AND NOW HAS THE RIGHT MIX OF PRODUCT AND VALUE ADDED PROCESSES
MEN Business Bulletin
OUR DIFFERENCE
Quite simply, our mission is to harness the knowledge and expertise of all our people – and that we continue developing, investing and above all delivering.
Terry Shanahan
Managing Director