---
Seven, fully automated CNC cutting lines
---
Our cutting lines can cut even the largest steel sections to the most exacting specifications.
---
In all, we operate seven CNC saws on site and are able to handle the smallest flats and angles, right up to the largest beams, columns and even bundles.
All of our saws have the capacity to square cut or mitre most stock lengths, including channels, squares and angles. Many offer mitre cutting of +60° to -60°.
Production multi-cut-kits are a speciality and we can deliver on a just-in-time basis to save you the unnecessary expense of holding stock.
We also offer part marking and drilling.
---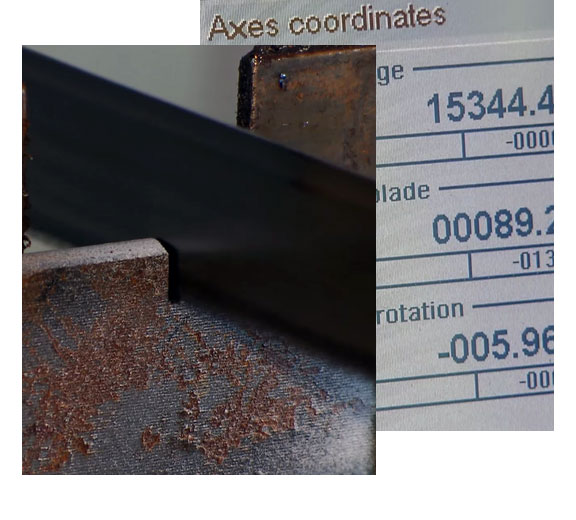 Capacity table
---
The following capacity table should act as a general guide. Where dimensions are stated, such dimensions are for guidance only and are provided by the machine manufacturer. Please contact a member of our sales team if you require more precise tolerances.
|   | Universal Beams | Columns | Bundles |
| --- | --- | --- | --- |
| Maximum | 1016mm x 305mm | 356mm x 406mm | 800mm x 800mm |
| In Feed | 18.3m | 18.3m | - |
| Mitre Angles | +60° to -60° | +60° to -60° | - |
| Tolerance | ±0.1mm | ±0.1mm | ±0.1mm |
Want to know more about John Chorley?
Call us on 01925 636552
---
About us
We provide products and services right across British industry. From landmark construction and multi-million pound infrastructure projects through to commercial developments and manufacturing – everyone gets our best.

---
JOHN CHORLEY HAS BEEN REMODELLED AND NOW HAS THE RIGHT MIX OF PRODUCT AND VALUE ADDED PROCESSES
MEN Business Bulletin
OUR DIFFERENCE
Quite simply, our mission is to harness the knowledge and expertise of all our people – and that we continue developing, investing and above all delivering.
Terry Shanahan
Managing Director